Description
VR Headset Virtual Reality VR BOX Goggles 3D Glass Google Cardboard 2nd Gen NEW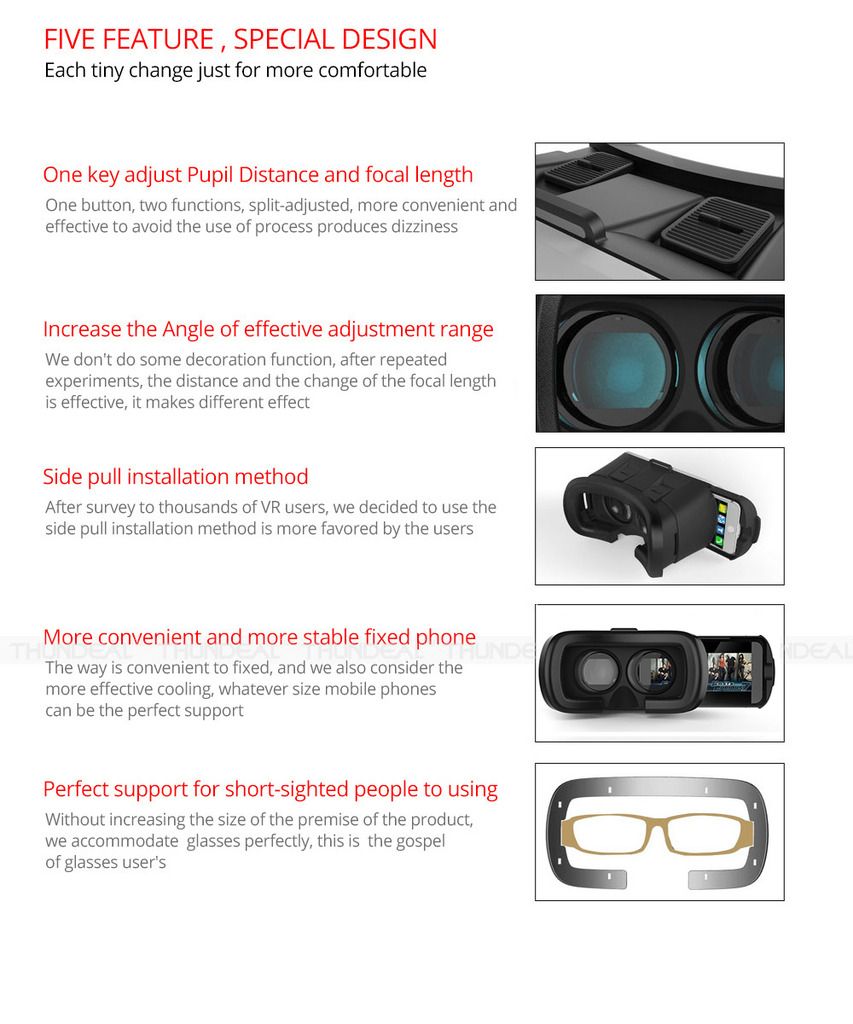 Product Details:-
The product includes a VR (virtual reality) glasses which is specially designed for smartphones and can add great effect to the movie-going experience. It will bring you much convenience and fun during playing games. it can be regarded as your private Cinema and bring you great game experience, easy to use even by the children or the old, you just need to put your smart phone into the relative slot of the VR GLASSES. And then, you can greatly enjoy the movies or games. It's very small and light, portable to use.The virtual reality glasses has been specially designed to clearly amplify the picture of your mobile phone and give you a wonderful experience.Perfectly compatible with more than 90% of the mainstream mobile phone, and other mobile phones.
Product Specification:-
Compatible Model : - 3.5''~6.0'' Smartphones
Model : - VR Glasses Version 2.0
Compatible Brand : - For Universal
Brand : - Unbranded/ Generic
Type : - VR (Virtual Reality) Glasses
Dimensions : - 195 X 135 X 100mm
Material : - ABS + Resin Lens + Nylon + PU + Sponge + Headband
Item Weight : - 412 gms
Color : - White-Black
Feature For VR glasses :-
Offers super picture quality effect and wonderful feeling
Attractive and portable
Offers 1000 inches big screen at the distance of 3m
Easy to put your smartphones in the VR glasses and convenient to use
Perfectly suitable for your face when you wear the VR glasses
Flexible and adjustable headband is suitable for different people
Adjustable pupil distance and sight distance
100% new, support Android & IOS
Made of high quality material, durable to use
Suitable for the phone ranges from 3.5-6.0 inches, such as iPhone 6s, iPhone 6s Plus, iPhone 6, iPhone 6 Plus, Samsung S6, Samsung S6 Edge
A great companion for traveling or staying house
Note: Do not use the mobile phone while charging
NOTE : If you want to experience 3D effect in your VR Goggles then add 3D Glasses into it and experience the new world of 3D Movies and Games
In the Box:-
1 X (VR Virtual Reality glasses) Packing will be done with Bubble Sheet to ensure safety of the product.